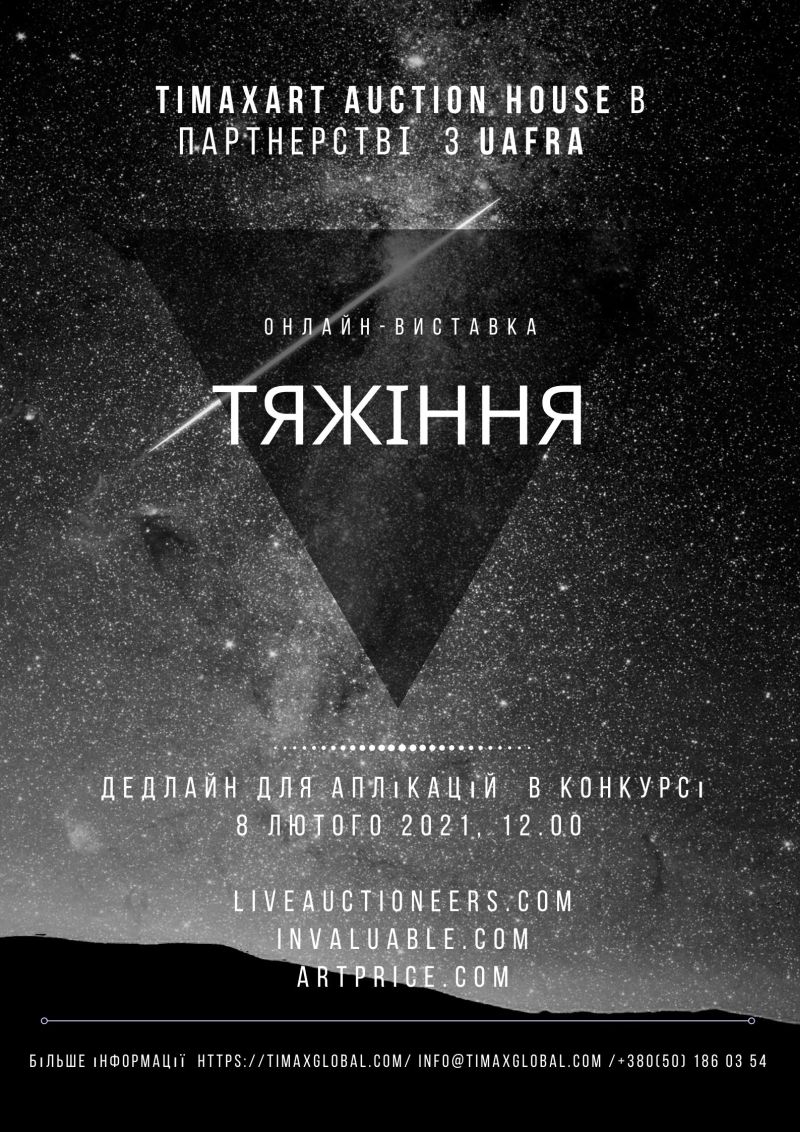 Friends, we are pleased to inform that we together with the NGO UAFRA (Ukrainian Association for Feminine Research in Arts) are announcing the opening of the online exhibition "GRAVITY".
Art curator: Irina Akimova.
The exhibition presents works by 16 Ukrainian and foreign contemporary artists of various genres:
Josephine Florens - Odesa, Ukraine.
Angelika Gonchar - Kyiv, Ukraine.
Mila Didenko - Poltava, Ukraine.
Taras Ros – Lviv, Ukraine.
Nataliia Stryzhko - Kyiv, Ukraine.
Yan McLain – Ternopil, Ukraine.
Yana Yank - Kyiv, Ukraine.
Lesya Ros - Lviv, Ukraine.
Olga Melnykova - Kyiv, Ukraine.
Liudmila Davydenko - Lviv, Ukraine.
Olga Fedynchuk – Chernivtsi, Ukraine.
Anastasia Bodnar- Kyiv, Ukraine.
Iryna Akimova - Kyiv, Ukraine.
Markus Nieden - Kehl, Germany.
Augusto Poderosi – Rome, Italy.
Oleksandra Christophorova - Kyiv, Ukraine.
Brief annotation of the exhibition topic:
The coronavirus pandemic affected social communications in society. Quarantine measures and local restrictions on social relations between people. The cultural sphere has suffered: it often closes museums and exhibitions, theaters and cinemas. Artificial communication barriers are created between viewers and authors.
Although the mutual attraction between people in the family, among friends and beyond does not weaken, it finds new ways of development and tools for implementation. Barriers stimulate / attract innovative thinking and the search for new forms. Creativity, like a magnet, unites creators and viewers, innovators and consumers. The force of human gravity is the key to overcoming any crisis.
https://timaxglobal.com/gravity-exhibition-eng/
* TimaxArt Auction House is an online gallery and auction house founded in 2017. The main activities are contemporary Ukrainian and European art. The international art online platform represents artists from more than 50 countries, different trends and styles. The gallery specializes in organizing and conducting online auctions, online and offline exhibitions, digitalization of contemporary Ukrainian art, as well as promotional artists through an international partnership with Artprice.com; Artnet.com.
* Ukrainian Association for Feminine Research in Arts (UAFRA) is a public organization that promotes society of equal opportunities through the support of women's art, national and international art activism. Over the last three years, UAFRA together with the partners has held about 20 exhibitions of contemporary art in Ukraine and abroad.